Top Whatsapp tips and tricks without installing other apps
Mobile app market reached to a new height when Facebook bought Whatsapp for a whooping $19 billion.
Whatsapp, one of the most popular mobile messaging apps, is facing severe competition from WeChat , Line, Hike etc. But it held its ground with its many features that ensure users have a secure, dependable and addictive messaging experience.
With that in mind, here are our top 5 Whatsapp tips and tricks without installing additional apps .
5. Extend Whatsapp Trial Period – Get More free Trail Period even when its over
We all know that Whatsapp ask for $0.99 after one year of usage and its compulsory. So, we either have to buy the package for one more year or let our Whatsapp accounts rust to dust. Using this short and simple trick you can extend the free trail period of your Whatsapp for one more year. This trick is really simple and finely working. You can get on more year extended free trial period.You don't have to pay any single penny for this purpose.
When your free trial period is going to be completed, then finally delete your Whatsapp account. After that you have to create a new account. The whole process will be done in 5 minutes or less but you will be getting one more year of Whatsapp free account.
• How to Delete your Whatsapp Account
• Go to Settings and click on Account
• Then click on " Delete my Account" option
After that create a new account using the same name and details and you will see the free trial being extended. You can save your data first and reupload it for the new account. You can use apk like gbwhatsapp download.
4. Recover Deleted Messages and Chats
Sometimes you might delete your Whatsapp messages or conversations. Accidental deleting messages would go so wrong as messages might be very of interest and value. You need to know that Whatsapp always backups the messages and stores them in your memory. Then this trick is for you to get back all your messages easily.
Trick
• Uninstall Whatsapp and Then Re-install it after sometimes
• It will ask to restore all your history , Data and messages and click OK for it
• Now after Re installing you can see all your messages are back there
3. Hide "Last Seen" Timestamp
By default, WhatsApp shows a "last seen" timestamp, telling other users the last time you were on WhatsApp. Some of you may want to disable this timestamp, for privacy reasons. You can disable this timestamp on both iOS and Android.
If you're an iOS user, you're in luck, since all you need to do is go into Settings > Chat Settings > Advanced and set Last Seen Timestamp to Off.
If you're an Android user, you won't have access to this setting from the app itself. Instead, you're going to have to rely on third party apps. Once you exit the app, yourWiFi and data connections are reactivated, WhatsApp will sync, and your messages will be sent.
2. Change Your WhatsApp Phone Number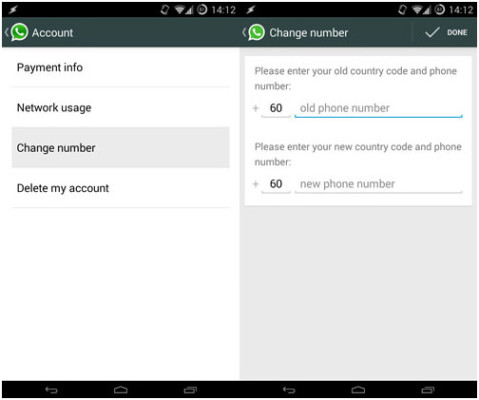 If you've changed phone numbers but kept the same phone, you don't need to uninstall and reinstall Whatsapp just to change numbers. There's a setting within WhatsApp that will let you migrate your WhatsApp account to a different phone number.
Go to Settings > Account > Change number. Enter your old phone number in the top field and then your new phone number in the bottom field. Then press Done. Verify your new phone number, and all your chat history, groups and so on will be migrated to the new number.
1. How to Stop Whatsapp Images to Appear in Photo Album
All the Pictures, Videos sent on your Whatsapp account by different people like your Friends and Family directly appear in your Photo Album in Whatsappfolder.It is the same with all different photo album applications for Android and IOS merely.So, it gets little confusing when you use your Photo Album and get confused with all the images at one place.
Using this trick you can stop Whatsapp images being appeared on your Gallery.
For Android Users
• You need to have a file manager application
• I will select ES File Explorer which is really good , Install it on your Android device
• Then go to Whatsapp folder and create file named .nomedia file
• So as to do this you have to Tap New button in the lower left, choose File and create a file with name .nomedia
• Now your Whatsapp Images and Videos won't appear in Gallery or Photo Album
For IOS users
• You have to go to Settings option
• Then click on Privacy settings and enter it
• Select Photos under it and uncheck the Whatsapp images option
• Now your Whatsapp images won't be shown in Photo Album on IOS devices
Lets check who are the most followed instagramers.